Clyde River Cottages and Campground
Welcome to Clyde River Cottages, a family friendly, pet friendly campground, cottage and accommodation business owned by Ruth and Fred Hemeon of Clyde River, Shelburne County, Nova Scotia. Ruth and Fred are long time residents of the county, one of the most important commercial fishing regions in Atlantic Canada.
Clyde River Cottages and Campground is just 11 kilometers (7 miles) from Highway #103 on the Clyde River Road, a picturesque country road that follows the twists and turns of the Clyde River.It is the third campground on this road.
What a delightful place this is! Being that is the Thanksgiving weekend, it was appropriate to see wild turkeys running around the property.
This is a beautiful place to visit . We enjoyed the trail and took a drive farther up the road and saw a deer , a porcupine, a squirrel, and a rabbit. We definitely will return. Thanks so much!
What an amazing place. It's like its own community with everything you need. Such beautiful grounds, and wonderful hosts – should be truly appreciated.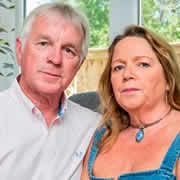 Cleve & Lorna Beeler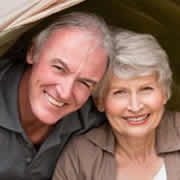 Pat & Derrick Perry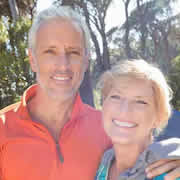 Debi & Bradley Sawler
Fall Foliage

The fall is a great time to visit Clyde River Cottages and Campground. The fall foliage is spectacular in Nova Scotia and the numerous hardwood trees on the property make for easy viewing! Come enjoy the warm days and the crisp clear nights; enjoy a campfire with family and friends and watch the stars. It's back to nature at it's best.
Pets Welcome

Pets are welcome at Clyde River Cottages but they must be well behaved and pet owners must respect our property with an ample supply of doggie bags for each animal. There's an extra $10 charge for pet breeds that shed constantly. In the campground area, all pets must be leashed. While we do have a few rules, we want you to enjoy a pet friendly vacation in Nova Scotia!
Today, the river continues to attract trout fishermen,and canoeing enthusiasts from many parts of North America and beyond. The road may seem long the first you drive it, but it only takes 10 minutes or so, and you will agree when you arrive that it's well worth the drive here when your eyes take in the beauty of the 'park' grounds and outdoor pool, campground and cottage areas. You can see many testimonials on our comment page and feel free to leave one yourself.
The family cottages, camping and campground operation is only 25 minutes from the village of Barrington the nearby town of Shelburne,Sandhills Beach Park,local historic sites; about 15 minutes from an 18 hole golf course – River Hills Golf and Country Club.
When traveling from Halifax take Highway #103 West to Clyde River, turn on the first road on your right (called the Upper Clyde Road), just past the green bridge, or from Yarmouth Highway #103 East, to Clyde River, take first road on the left just before the green bridge, (don't go over the bridge or take any other exits} – the Upper Clyde Road is just opposite our highway sign in the village. After you turn onto the Upper Clyde road it's around 7 miles up. Take note that we are the third campground on this road.
To contact us simply e-mail Ruth Hemeon at the address below, dial the telephone number on the sidebar on the left or write us at the following mailing address: Clyde River Cottages&Campground, P.O. Box 3, Clyde River, Nova Scotia B0W 1R0.
- contact info -
Contacts
Address:
P.O. Box 3
Clyde River, NS B0W 1R0